Guests have access to an area with sofas and TV, shared kitchen complete with refrigerator, stove, microwave oven that can be used at designated times to cook their own meals.
A portion of the large porch is for the exclusive use of B&B guests.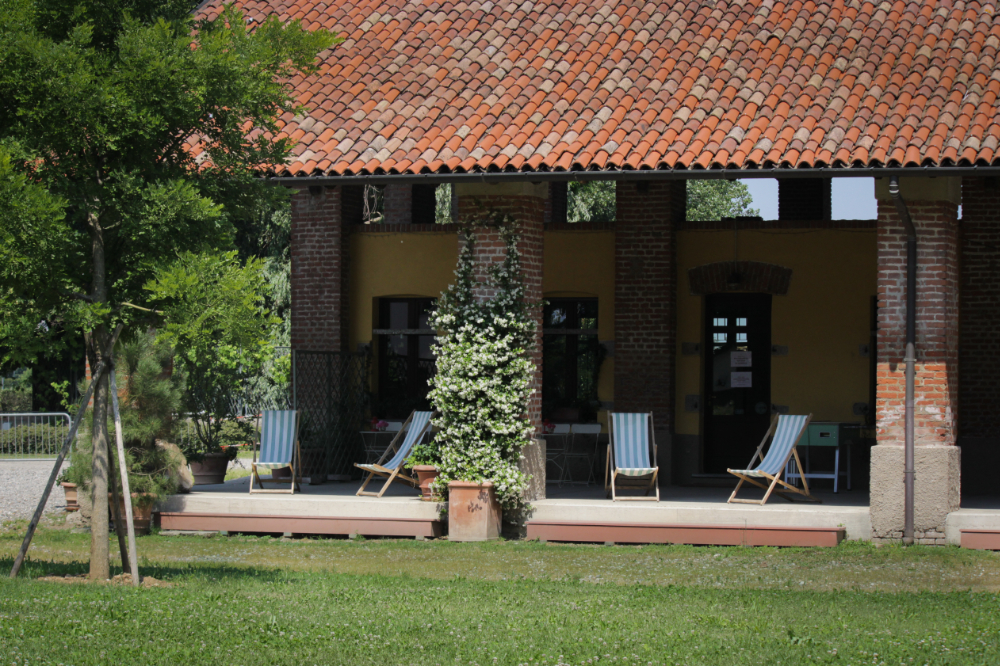 "Our stay was amazing. Thank you for hosting us."
How far is the farmstead from the city?
Cascina Gaggioli is among fields, just outside the city limits but still in the city.
Is it possible to reach the city on foot?
Yes, in just a few minutes and walking along Via Selvanesco you reach the city and the terminus of tram 24, which arrives in the city centre.
Is it possible to call a taxi?
Yes, of course.
Yes, the farmhouse has free wi-fi coverage in all areas.
Do you have a parking lot?
Yes. There is free, unsupervised parking for cars, motorbikes and bicycles.
Is it possible to visit the farmhouse?
Yes. The farmhouse can be freely visited in its common parts from Monday to Saturday, from 8 a.m. to 6 p.m.
Is it possible to come with children?
Yes. Accompanied children can visit and stay in the farmyard. A play area is dedicated to them.
Yes. There is the stable with the cows. Roosters and hens roam freely in the farmyard and fields.
Is it possible to visit the stable?
Yes. We ask: that children are always accompanied by an adult, that there is always respect for the animals, that they do not climb on or approach farm vehicles.
Yes. Dogs are welcome but always on a leash.
Do you have a vegetable garden?
Not yet.
Is it possible to have a picnic?
No, the farmhouse is not a picnic area.
Is there a chance to eat something? Do you have a restaurant?
We do not have a bar and we do not have a restaurant, but at our shop, when it is open, you can buy something and hang out in the farmyard. On reservation, it is possible to grill.
Is there a safe in the B&B?
No.
Do you offer a laundry service?
No.
How often are rooms cleaned and sheets and towels changed?
Cleaning in the rooms is done thoroughly every day. Bed linen and towels are changed every 3 days.
Each room has its own television. In addition, there is a large TV in the common room.
What are the check-in times?
From 3 pm to 7.30 pm.